Apply for Funding for your Energy Day of Action
Green Schools have teamed up with ESD Training to offer your school a chance to host a Pedal Energy event for your next Energy Day of Action.
Pedal Energy is a fun, educational and memorable collection of bicycle powered learning tools suitable for secondary school students.
We know the amount of work required to be a Green Schools coordinator. So we want the funding process to be as simple for you as possible.
Just Four Simple Steps to Apply.
1. If you would like Pedal Energy for your next Energy Day of Action. Register your interest now.
2. We will then send you a completed application form. You just sign it and return it to us.
3. Your local authority will let you know if your application has been successful.
4. ESD Training will then contact you to make arrangements for your Pedal Energy event.
It's that Simple!

We thought the presentation was brilliant. It was so novel. Our Day of Action created quite the "buzz" of interest around the whole school.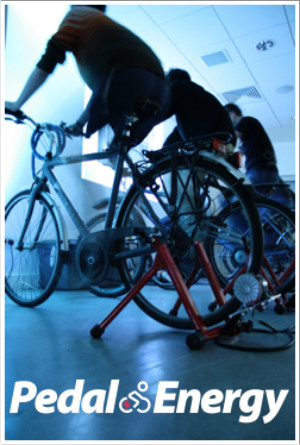 A thoroughly enjoyable educational experience. I highly recommend it to all involved in raising awareness about energy and climate change.

I was very impressed with the presentation. It was suitable for a lot of different subjects ranging from History to Geography to Science.
Our Pedal Energy Day of Action was a great way of highlight all the work our Green Schools team have done towards gaining our Energy Flag.
We had just finished the chapter on energy in Science class. It was the best practical ever!
This is a wonderful, interactive workshop which engages all students whether they have an interest in environmental issues or not.