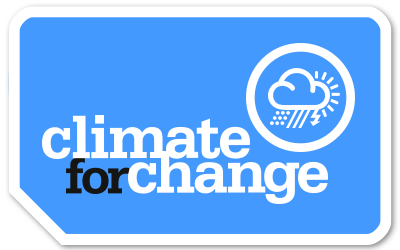 Climate for Change was developed by ESD Training in partnership with Change.ie the Power of One to provide accessable talks on climate change suitable for all.
Climate for Change offers you bespoke presentations on climate change, suitable for all audiences.
The talk offers an exciting mix of photographs, video clips, and animations that documents the enormous influence we are having on our planets climate. The presentation highlights the serious impacts these changes are likely to have on all of us and what we need to do about it.
Understanding climate change is often confusing and contradictory. For every argument on the size of the problem, its seriousness and its cause, there seems to be another voice declaring the opposite.
Now however, the world's leading scientists are united in the scientific evidence for climate change. The big question is, are the people of Ireland ready for the challenge?
Testamonials fo Climate for Change
Gavin Harte's presentation, 'Climate for Change' is cleverly put together, highly informative and superbly delivered. Gavin deals with complex science in a clear, precise manner that will be understood by all. He has the remarkable ability to deliver what is generally seen as 'negative' news in a way which will force people to examine their lifestyles and make the necessary changes. One does not come out of the presentation with a sense of hopelessness, but rather with an enthusiasm to make the changes and make a difference. Everyone in the country should see this presentation.
Mícheál Ó Coileáin Environmental Awareness Officer, Kerry County Council
Once again thank you for your talk Climate for Change at Cool Earth, I found it extremely interesting and it was delivered in an understandable, concise, interactive and clear way for the general public to understand. I would recommended it to the other Environmental Awareness Officers.
Kate Hynes Environmental Awareness Officer, Dun Laoghaire-Rathdown County Council
Gavin Harte makes a compelling and convincing case for urgent action with his well-researched, cleverly-crafted and professionally-delivered presentation. Climate for Change is a clear and reasoned exposé of where we are, how we got here and why we need to change. An accomplished and accessible speaker, Gavin held the attention of the room with his clear, fluid style and reasoned arguments. Guaranteed to stimulate questions and provoke discussion, this road-show is an excellent resource and an invaluable opportunity for raising awareness. All local authorities should avail of it - without hesitation.
Fionnuala Meagher, Green Projects Officer, Sligo County
Gavins talk on Climate for Change delivers the message on the Climate Change in a manner that is easily understandable and concise; attendees appreciate how they are contributing to climate change in their day to day lives resulting from the choices they make. The presentation is very informative and the material used make the issue of climate change very tangible. Meath Local Authorities used Gavins talk to launch their climate change strategy, and would recommend the talk to other Local authorities and community groups.
Lara Fagan, Energy Officer, Environment & Water Services,Meath County Council
Laois County Council engaged Gavin Harte of ESD Training to deliver his 'Climate for Change' talk as part of the national awareness campaign on Climate Change. Gavin's audience included Laois County Council staff, Tidy Towns Groups, the general public and Secondary School students. The presentation (which consists of photographs, video clips and animations) highlighted the impact of our daily activities and how these contribute to Climate Change. Gavin's style of presentation ensured all the audience were engaged from beginning to end.
Ann-Marie Kelly, Environment Awareness Officer,Laois County Council
An informed and engaging presentation that made the science accessible, and the cause for actid.on clear. The overall effect was to inspire a positive response to the challenges. Highly recommended.
Mark Bennett,Green Business, Dublin City Council
Gavin's presentation to South Dublin County Council's Environmental SPC was well received; it was clear, conscious and engaging. The presentation was set out so that it was easy to understand the science and challenges in relation to Climate Change. It is a presentation I would recommend to anyone who wishes to understand what is meant by Climate Change and to reinforce the concept that a combination of individual actions can make a difference.
Sorcha O'Brien, Environmental Awareness Officer,South Dublin County Council
I have received very positive feedback from the teachers and from the members of County Monaghan's Tidy Towns Network about your talk. The very professional presentation delivered a couple of key messages about Climate Change that I think will be critical for the Monaghan County Council going forward. I would be delighted to have you back again in County Monaghan for more talks and I would recommend that other local authorities should avail of the offer of the seminar. The more we spread this message the better!
Nial O'Connor, Environmental Services, Monaghan County Council
Gavin Harte delivered an excellent lecture on climate change to Cork County Council staff and invited guests. The contents addressed both natural and the man made impacts . Feed back from the audience revealed their genuine concerns and questioned how best they can live and work with a reduced negative impact on the environment. I highly recommend that you attend this talk. It is sobering.
Dr Mary Stack, Environmental Awareness Officer, Cork County Council